t
Parading through Belfast
Pride of the Lagan Valley

Pride of the Lagan Valley

Pride of the Lagan Valley

Relaxed crowd s come out to see the parade


Townhead Young Defenders
Stepping out proudly

elderly and infirm brethren in car

Shirtsleeve order in the heat

Try to catch that bandpole

Banner of LOL979


Young Calvay Volunteers,
Glasgow band on parade
The Twelfth aims to convey the spirit, colour and atmosphere of Europe's largest indigenous cultural festival. We have no connection with the Orange Order, but we do fully support the concept of civil and religious liberties for all. We oppose negative religious bigotry. We believe in heritage, not hate and celebration, not provocation. We extend mutual cultural respect to all other peoples.
We'd like to make next year's issue of The Twelfth bigger and better than the last one. Can you help us? Areas in which we'd appreciate your help include:
| | |
| --- | --- |
| | Articles. We want to hear from anyone who is willing to share his or her thoughts and memories of the 'Twelfth. What do you do on the Twelfth? What does it really mean to you? What's it like to carry a banner, toot a flute, or beat a big drum all the way to the field? Tell us about your typical day. We'd also like to broaden our scope and carry reports from lodges and bands. Don't worry if you don't think you can write an entire article - one of our main writers just produces a series of notes. We put them order, cross the t's and dot the i's. It's as simple as that! |
We hope you've enjoyed reading The Twelfth. We hope that we've succeeded in capturing the flavour, colour and atmosphere of Europe's largest indigenous cultural folk festival. The Twelfth welcomes all ideas, constructive criticism, and especially offers of help. If you've got something to say - get in touch today!
E-mail: feedback@the-twelfth.org.uk


Beating the drum
The Pride of the Maine, BALLYMENA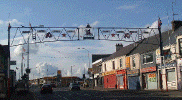 Tradional Orange Arch
Glengormley village centre, NEWTOWNABBEY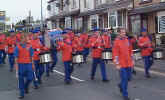 Parading through Glengormley
Local band walks the village


Ballymacarrett Defenders melody flute band - East Belfast

Sons of Ulster Flute Band
smart band from Glasgow

Canadian and Ulster bannerettes

Banner of LOL739, West Belfast